From July, the Nanjo Citizen's Activity Support Center, commonly known as "Nan Support", has started operations in the collaboration space on the 2nd floor of Nanjo City Hall!
At this center, while supporting the voluntary activities of the citizens, we aim to create a town for the citizens by Nanjo citizens, and the three staff of Lequio Wings are helping as a town development coordinator.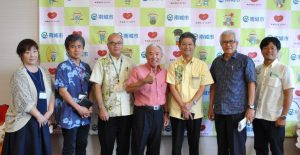 ▲ Courtesy call on the mayor of Nanjo with the start of the Nanjo Citizen Activity Support Center
http://www.city.nanjo.okinawa.jp/about-nanjo/introduction/mayor/cat964/20180719.htmlreference
In addition, Nansapo aims to be a "platform for community development by citizens," and as a center open to the public, we hope to become a place where people can easily consult and gather.
We look forward to your use! For more information about Nan Support, please visit the website below.
[Nanjo Citizen Activity Center (Nan Support)]https://www.nansapo.jp/about