This time, the specified non-profit organization Requio Wings has been certified as a "JICA-SDGs Partner" by the Japan International Cooperation Agency (hereinafter referred to as "JICA").
Under the "JICA-SDGs Partner" system, in order to avoid the division of the world due to the effects of the new corona virus and to realize the ideal future that SDGs envision, the Sustainable Development Goals (hereinafter "SDGs") will be established together with JICA. Organizations working on promotion are certified as "JICA-SDGs Partners".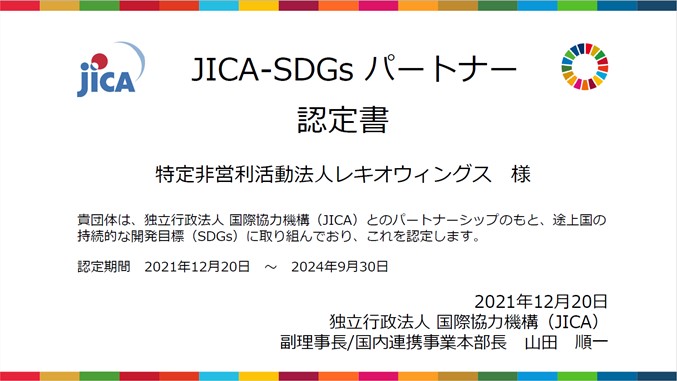 In order to achieve the goals of the SDGs, which tackle a wide range of social issues in an integrated manner, we will promote broader partnerships, such as implementing projects with the strengths of companies, governments, NGOs, educational institutions, etc. Efforts are needed. Therefore, in promoting Okinawa-like SDGs in Okinawa Prefecture, we have set up the "Okinawa International Cooperation Platform (OIC-PF)" as a base where information is gathered and people gather, especially from the perspective of international cooperation. We will provide NGOs and other organizations and companies with opportunities to promote "cooperation" to solve problems, "support" to develop continuous and effective activities, and "dialogue" between organizations. ..
(In this initiative, we aim to achieve the SDGs Goal 17: "Achieve the Goal through Partnership.")
Requio Wings is engaged in activities toward the realization of SDGs not only in the above projects but also in various fields. Having been certified as a "JICA-SDGs Partner", we will continue to work hard to contribute to the realization of a sustainable society!