Hello! This is the first Requio news of the new year.
Citizen Activity Festa sponsored by "Nan Support" on Saturday, February 9, 2019,
that name as well"Muraya Nanjii MeetingWill be held at Nanjo City Hall!
Active in Nanjo City23Citizen groups will participate.
There are many interesting events such as traditional lion dance, Tai Chi experience, and flea market!
In addition, Requio staff will also participate, so please come and see us ☆
We look forward to your participation: -D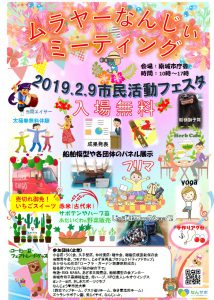 You can check the details of the event and the introduction of participating groups at the following URL. ↓
https://www.nansapo.jp/info/%E3%83%A0%E3%83%A9%E3%83%A4%E3%83%BC%E3%81%AA%E3%82%93%E3%81%98%E3%81%83%E3%83%9F%E3%83%BC%E3%83%86%E3%82%A3%E3%83%B3%E3%82%B0-1
All Requio staff